Back to Stonegrave Heraldry
Stonegrave Cross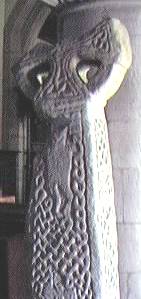 There are several carved stones at Stonegrave, probably broken cross-shafts. However these are overshadowed by an almost complete magnificent wheel-headed cross, which is on display just inside the door. It is well over 6' tall, even though it is broken.
The carving is particularly fine on the front of the shaft (left) and the side facing the door (right). The carving is basically of interlaced strips, with panels of more recognisable figures: there is an animal on the front near the top, and a charming little human figure at the bottom of the front of the shaft (below)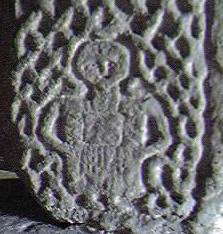 Detail of figure on cross shaft
The head of the cross is broken, but it is obviously a wheel cross of "Celtic" form, a type which is relatively common in the north of England. The interlaced design in the arms of the cross is particularly beautiful (see detail below).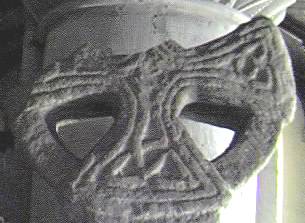 Detail of wheel-head of cross
Back to Stonegrave Heraldry
---
© Gill Smith 1999
Page maintained by APL-385. Back to the Home Page